Concrete Finishing Mornington
Looking for the best contractor that can provide the cleanest and the most beautiful concrete finishing Mornington and nearby locations have ever seen? If so, our team at SmartCrete is the one you should call. We have years of experience when it comes to concreting of pathways, driveways, slabs, pool surrounds, and patios.
You can choose from the different concrete finishes that we offer including polished concrete finish as well as other decorative concrete finishes.
Concrete Driveway Finishes Mornington
We provide widest range of the highest quality concrete driveway finishes Mornington residents can choose from. Our team of concrete contractors is knowledgeable in various types of concrete finish and they can advise you which one would suit your property better.
Types of Concrete Finish
Brushed Concrete
Brushed concrete is best suited for outdoor areas, paths, driveways and pool surrounds where a non-slip finish is required. We grind the concrete to that extent where it looks awesome but is still slip-resistant. Our brushed concrete services are suitable for domestic as well as commercial use.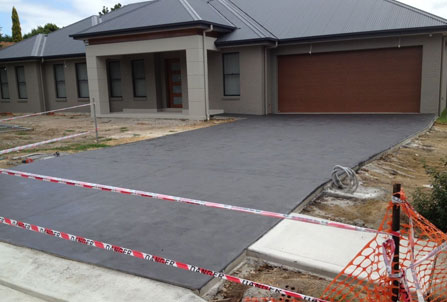 Stencil Concrete
We will be using a high-quality disposable stencil that will allow us to create different decorative effects on concrete surfaces. Stencil concrete is very similar to stamped concrete, with the important difference being that this process utilises disposable paper stencils to print the pattern, instead of rubber mats.
We are capable of creating a wide array of patterns. Because the stencils mask off the underlying surface, they leave behind realistic "mortar joints" that resemble the colour of the grey concrete base. You can also benefit from applying a dry-shake coloured hardener to the exposed concrete before we remove the stencil. In this way, you will get the appearance of individual stones, tiles or bricks that have been mortared together.
Coloured Concrete
We also install full-depth coloured concrete surfaces that are either painted or topped with colour thus allowing us to deliver surfaces that wouldn't need re-colouring any time soon. We recommend allowing us to seal the coloured concrete surfaces in your property with a sealer that is resistant to ultraviolet radiation damage. Sealing is essential as it will allow the surface to remain protected by keeping stains and dirt away.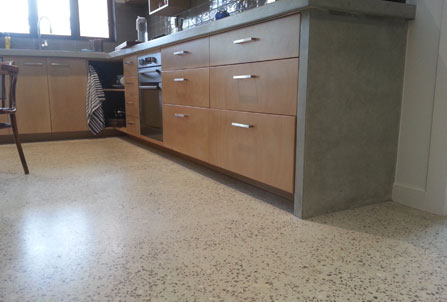 Plain Concrete
Plain concrete is quite common for concrete projects and simply refers to the grey smooth concrete finish. We offer plain concrete services as it is used for slabs, some pathways and driveways and is durable and low to no maintenance. For a slightly textured finish on plain concrete, we could add a decorative finish on it if you would let us.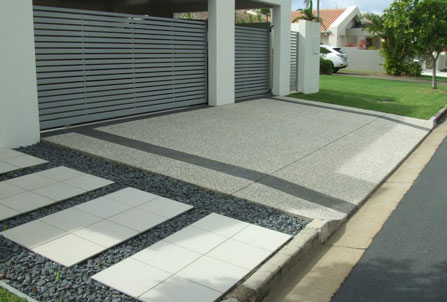 Exposed Concrete
Exposed aggregate concrete refers to the various types of aggregates (materials) that appear in the concreting mix to create unique looks and styles and perfect for any interior or exterior project. Our exposed aggregate concrete can have textures and styles that can range between matte to the all-too-popular polished look. This type of concrete surfaces is ideal for outdoor areas where slip resistance is a necessity. We can provide you with a stylish, exposed aggregate concrete finish on all your outdoor areas that will give you a maintenance-free, weed-free, and contemporary surface.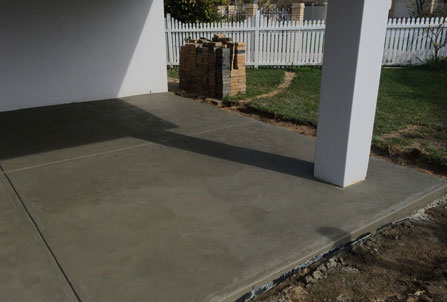 Pre-Cast concrete
We offer precast concrete surfaces. We are one of Australia's leading precast concrete service providers. We align with our clients from the early design stages through fabrication to assembly.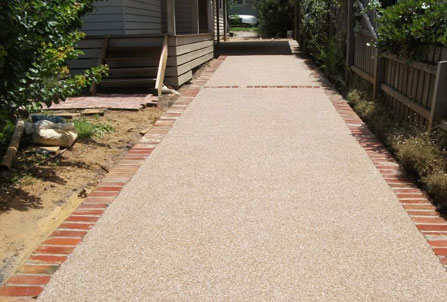 Why trust us?
At SmartCrete, our priority is safety. We have taken all necessary precautions in obtaining the proper licenses and insurance to ensure everyone's safety while we work. You and our contractors are protected if anything should happen during our services. Schedule your services with our professionals today.
Our team prides itself on its years of combined industry experience. In our years of operation, we have handled a wide variety of projects so we can carry out just about any concreting service for you. We take a "ground up" approach, meaning that we do a thorough job on our work and cover our bases to give you a professional result.
Get your FREE no-obligation quote! Call us today on 0400 633 471.
Service Locations
We offer our concrete finishing services for clients from and around Melbourne.
Concrete Finishing Mornington Peninsula
Concrete Finishing Clyde
Concrete Finishing Cranbourne
Concrete Finishing Mount Martha
Concrete Finishing Pakenham
Concrete Finishing Officer
Concrete Finishing Frankston
Concrete Finishing Mount Eliza
Concrete Finishing Mornington
For more details and to get your FREE no-obligation quote, call us today on 0400 633 471.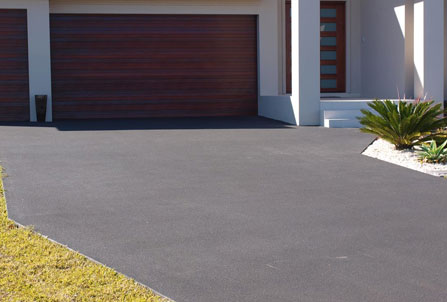 Why Choose Us?
Service Excellence and Customer Satisfaction Guaranteed
Delivering the highest levels of service excellence and customer satisfaction is what we aim to do for every single project that we take on. We take pride in our ability to complete jobs with the most exceptional quality results while being on budget and on time every single time. So, you can expect to not only meet your requirements but exceed your expectations!
Fully Licenced, Registered, Accredited, and Insured
We are fully licenced, registered, accredited, and insured (ABN 51 919 027 593). So, you can be confident that our company, our services, and our tradesmen will meet the highest safety and quality standards and follow the strictest regulations and protocols set by industry and government authorities.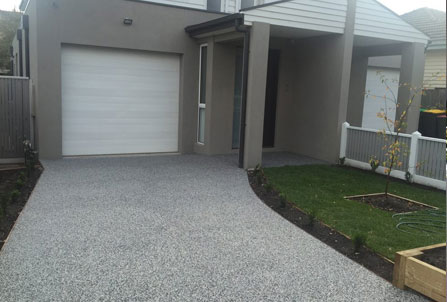 Highly Skilled and Vastly Experienced Team
At SmartCrete, we have a team of highly skilled and vastly experienced concrete contractors ready to complete your concreting job to perfection. We stay up to date with all the modern innovations in the concrete industry and ensure we have the all the skills and equipment necessary to complete any job. You will always be treated courteously and professionally when you deal with us.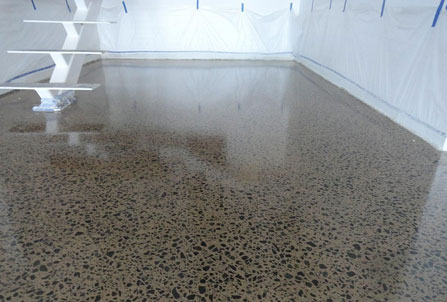 Extensive Range of Modern Equipment
We have a fleet of state-of-the-art heavy machinery and vehicles as well as a range of tools manned by fully qualified and trained operators that can complete any project regardless of size, scope, and complexity. You can also hire our equipment, which can come with our experienced operators if you so desire, to help you complete projects. You can be assured that all are machinery are always well-maintained and fully equipped.
Get your FREE no-obligation quote! Call us today on 0400 633 471.
Get your FREE quote today!
We have vast experience and expertise in everything to do with concrete. Request your free quote now to get started.