Concrete Driveways Mornington
SmartCrete specialises in the construction, installation, and maintenance of the highest quality concrete driveways Mornington property owners have ever seen. Our concrete driveway construction team can take care of your entire project starting from its design to construction to its project management to completion as well as maintenance if you so desire. This is done to ensure you are completely satisfied with the results.
Our team will start with a quality driveway base planning and designing. Then, as our experienced team approaches the installation phase where we initiate –
Drainage and initial earthworks, and then
Driveway base construction and associated compaction.
Concrete Driveway Contractors Mornington
As one of the top concrete driveway contractors Mornington residents trust and rely on, SmartCrete will take care of your project – from planning to construction to finishing. We can even add kerbing or channels to the edges of your driveway if you want us to for added safety, more efficient, water dispersion and enhanced aesthetic appeal.
We can also lay –
Cross over pipes,
Field inlet pits,
Grated channels and seepage drains to minimise water damage to your investment.
We also offer driveway repair services at competitive rates. If the driveway(s) in your property are worn out, we will bring them back to life with our driveway repair services.
No job is too big or too small for us. So give us a call and get a free no-obligation quote from our experts today.
We also offer driveway sealing services. It is a relatively affordable way to repair concrete driveways and is ideal for rural locations. Our team can seal cracks to prevent water penetration and further degradation.
Get your FREE no-obligation quote! Call us today on 0400 633 471.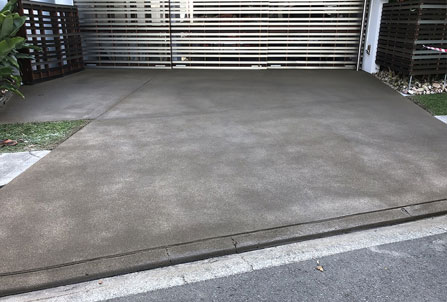 Coloured Concrete Driveway Mornington
If you are looking to hire a contractor to help you install the most pristine coloured concrete driveway Mornington residents will admire, don't hesitate to call SmartCrete. We can install plain or colour concrete depending on your preference. Our team can also repair existing and old driveway such as restoring it to original concrete driveway thickness.
It is important to repair all the cracks in your concrete driveway(s) especially before winter comes. The winter weather's freeze-thaw cycle can worsen the cracks making them larger and deeper. As a result, water will penetrate through the cracks and weaken the base that supports the driveway and eventually damaging the base layer. Potholes and spider cracks may develop which may lead to further deterioration.
Put an end to all of this with our concrete driveway repair services offered at reasonable concrete driveway cost!
Service Locations
We offer our concrete driveway services for clients from and around Melbourne.
Concrete Driveways Mornington Peninsula
Concrete Driveways Clyde
Concrete Driveways Cranbourne
Concrete Driveways Mount Martha
Concrete Driveways Pakenham
Concrete Driveways Officer
Concrete Driveways Frankston
Concrete Driveways Mount Eliza
Concrete Driveways Mornington
For more details and to get your FREE no-obligation quote, call us today on 0400 633 471.
Get your FREE quote today!
We have vast experience and expertise in everything to do with concrete. Request your free quote now to get started.